Special Occasion Hats in Store- JUST IN for 2016
Unique Custom Hats by Karen Quinn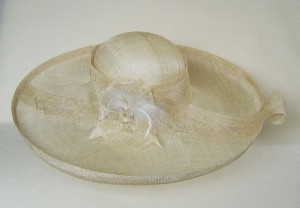 A small selection of unique, one-off, stunning, special occasion hats, hatinators and fascinators by Karen Quinn Millinery are already proving very popular with our customers.
Bridal Fascinators, Wedding Guest Hats also made to order by Karen Quinn to compliment a wedding outfit, or special occasion dress.
Large Hats, Small Hats, Wide Brimmed, Brimless, Pillbox…the choice is yours.
Special Occasion Hats
Maybe you need a special occasion hat for an event other than a wedding.
Hats are now in vogue for garden parties, christening or baptisms, renewal of vows ceremonies, opening ceremonies and awards ceremonies.
To appreciate Karen's lovely creations drop in to the Just Sew Shop
at 57 Main Street, West Calder, West Lothian, EH55 8DP
Other Hats Available By Karen Quinn – Not on display in the Shop
Click an image to see Image Gallery
Hat Makeover Service – Personalise a Wedding Hat
Recycling and upcycling, is the big trend today! Re-use, re-work, re-model, re-invent!
Do you already have a gorgeous hat you love that just needs that something extra to personalise it?
Maybe you bought a new or second hand special occasion hat in a store, borrowed one from a friend or relative or have your own hat that you already wore to a previous function.
We can personalise your hat into something stunning by :
changing the trimmings
add fabric from your outfit
add flowers
add feathers
ribbon
net swathing
bead work
add sparkle features
In short, we can adapt and makeover your special occasion hat to really fit the occasion, match your outfit or add some inspired uniqueness so it looks like a more expensive and amazing custom hat.
Casual Daywear Hats
Karen will also make to order custom casual hats for stylish daywear:  wool felt berets, tweed caps and hats made from suede and leather.
Please use our Contact Form to make an appointment for a consultation.
Made to Order Custom Hats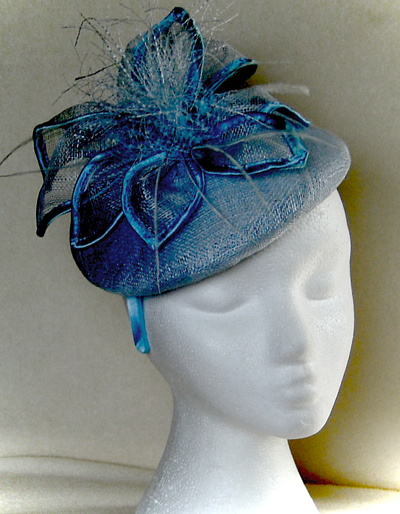 Contemporary milliner Karen Quinn creates stylish, stunning and unique hats for a daughter's or son's wedding with a custom designer hat for the mother of the bride or groom.
Finding the right special occasion hat for a wedding can pose many challenges.
As the mother of the bride or mother of the groom you know you need to look really special and unique. You probably have the perfect wedding outfit and need the perfect hat  – but the design is in your head.
You can see it in your mind's eye and nothing you've seen in a store comes even close.
Problem solved!
Save yourself hours of travel and frustration by having your personal design made up by a  creative and accomplished milliner.
And you will be surprised how affordable it is!
Call us 01506 873 139 to discuss your ideas for your dream mother of the bride hat or mother of the groom hat. Anything is possible!